This film should have been a corker. It has a good pedigree – it is based on the novel Eaters of the Dead by Michael Crichton (Jurassic Park, ER, Westworld, Coma, etc, etc – the man was a prolific author of books and films and TV series). The story is based on Beowulf, one of the great classics of Old English literature. It was directed by one of the doyens of thriller films John McTiernan (Predator, Die Hard, Hunt for Red October, Last Action Hero) and final edits and extra shots were done by Crichton himself. It starred such luminaries as Antonio Banderas and (briefly) the late, great Omar Sharif.
But it bombed at the Box Office, big time, reputedly losing $100,000,000. Omar Sharif was so disgusted by the final output that he quit acting for a few years, calling it "a film so bad that it is not even worth exploring". Nonetheless, explore it we shall, because, you know, it has cannibals. If you're interested in what went wrong, Collider has a thorough and forensic dissection.
The story centres around Ahmad ibn Fadlan (Banderas), an actual historical figure – he was a Moslem travel writer from the tenth century. He gets exiled from Baghdad for fancying the wrong woman (the king's wife) and ends up among the Vikings, who find him pretty funny, because he keeps telling them he's not a warrior, which is rather important to Vikings. Anyway, a Viking boy appears from another kingdom telling of an ancient evil that even the bravest warriors dare not face, so of course they really, really want to go and face it, but their resident soothsayer says sooth, they need a 13th warrior, and, to make it interesting, he can't be a Viking. So Ahmad becomes the thirteenth, thus the title. He learns their language by listening to them, proving, in his grasp of vocabulary, the superiority of the civilised man.
After this, their language somehow morphs into accented English, since audiences do not want to spend an action movie reading subtitles.
Anyway, (spoiler alert) they eventually find that the Wendols (sounds like Grendel from Beowulf, doesn't it) are cannibals clothed to look like bears; they live like bears, and consider themselves bears. With teeth like a lion, but that's OK, because good monsters are usually some sort of hybrid. But these are also human, -ish, bit like orcs. Dark skin, by coincidence, useful to tell the difference from the very Aryan Norsemen.
These dudes gnaw on their victims, and take the heads home to mother, whose calling card is an ancient fertility statue. Some humans prefer to eat legs, some breasts; these guys' mum likes heads.
In the book, they turn out to be Neanderthals, but the movie does not go into detail of their species (just as well, because if they aren't sapiens, they can't so easily be accused of cannibalism). Of course, like Beowulf, the mother is the chief monster, and the Vikings are told they have to kill her. Their crazy old Völva (a much more appropriate name for a seer) tells them to find her under the earth – in a cave, like a bear.
So, the big plot point is that the mother of the Wendols eats people. So do the kids, but she is cannibal number one. She is what Barbara Creed calls
"the archaic mother… the parthenogenetic mother, the mother as primordial abyss."
Our mother, who carries us, can seem, in what Freud called our infantile oral-sadistic or cannibalistic phase, just as easily able to reincorporate us. The archaic mother also has, or may appear to have, a phallus – in this movie, it's a bear claw dipped in poison. Not a lot of use against a Viking broadsword, but she gives it a shot.
Roger Ebert said in his review "With a budget said to be more than $100 million, it displays a lot of cash on the screen, but little thought" and suggested it was designed just to showcase the special effects, with the story "shoehorned" in whenever there was a pause in the action.
Rotten Tomatoes gave it a measly 33% rating, and Time Out said "At its best, this achieves the beauty and grandeur of a Kurosawa epic – at its worst, however, it feels like a Python remake of The Vikings."
There are some real political problems, not least that Banderas is a Spanish actor playing an Arab, which sounds a bit like Hollywood saying "they're both not quite white, so that's all right." The bad guys are pretty black, and the good guys very white (you know, Viking). The big climax, the battle with the mother, is over in seconds, as is a second climax that got added probably as a filler, with her son in his QAnon horns (still trying to figure out why a bear with lion teeth has horns). Other plot points also fizzle out without much resolution.
When we get that hat and bear mask off, the chief dude is clearly painted like a savage. Lucky the white dudes were there to kill him.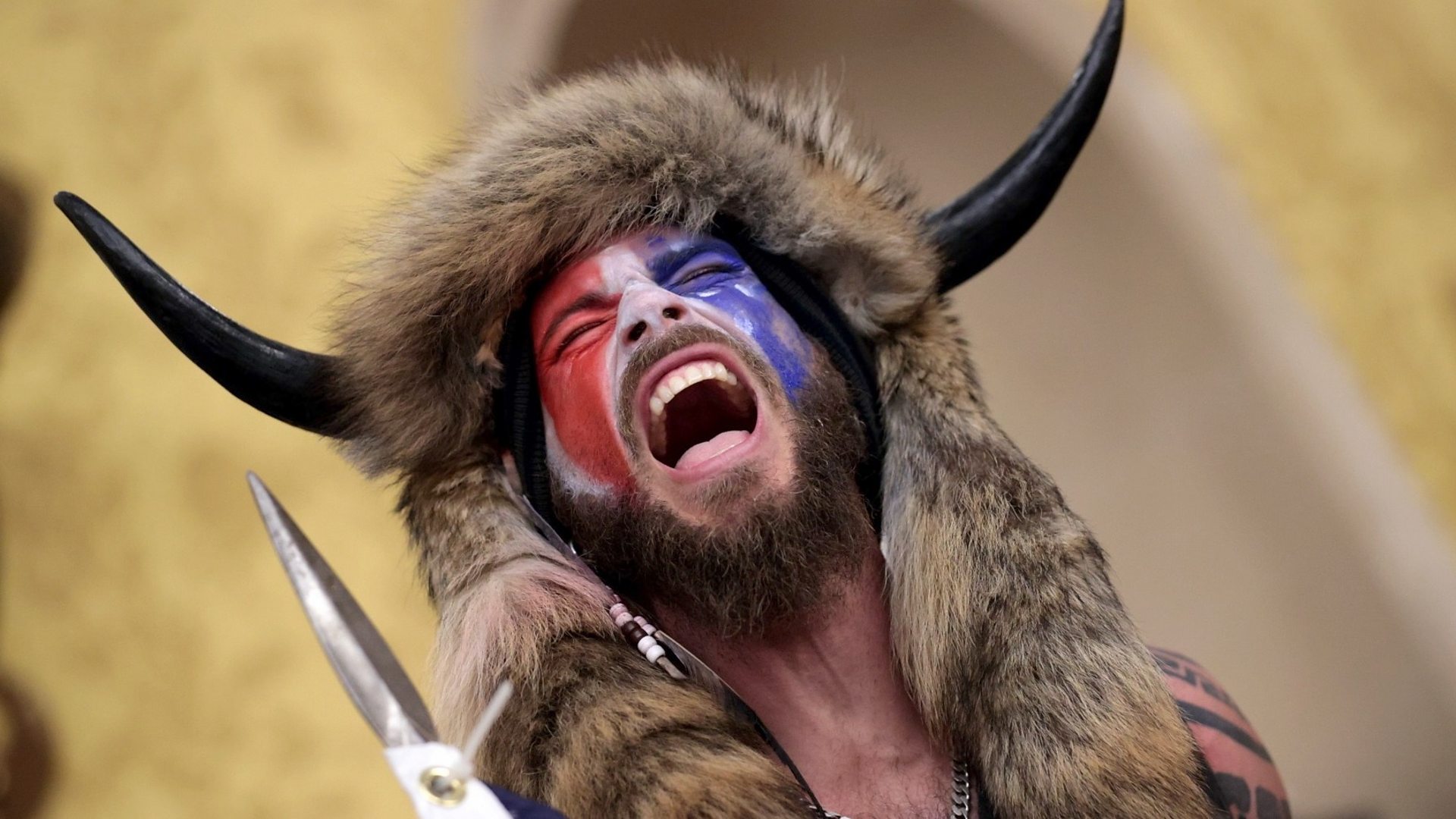 Beowulf of course killed Grendel, and then had to worry about a very angry Grendel's mother, so this retelling is totally upside down – they kill the mum, then the chief turns up. That's about all there is for plot twists.
But the scenery is superb, the action scenes are spectacular, the actors playing Vikings are great; their accents – one seems to be Irish – are a bit distracting, but who is going to watch a film entirely in Norse? If you're looking for a cannibal film with lots of swordplay and arms and legs (and sometimes heads) flying through the air, you might even enjoy this, as the Vikings hack away at the unending stream of orcs or bears or whatever.
It's kind of like Zulu, or The Magnificent Seven – Vikings beating off hordes of Wendol bear-men instead of British soldiers shooting Africans or cowboys shooting Mexican bandits. These films always end with the white saviours, or the few who survive, riding (or sailing) off into the sunset.
The film has had a bit of a reassessment since its disappointing start, as Vikings have become more fashionable. I admit to quite enjoying it despite its obvious problems, but I probably wouldn't have bothered with it if it didn't have cannibals, and I just wish those cannibals could have had a bit more character depth. I was hoping that the dark skin of the cannibals was because the filming was done in some exotic location where the extras were cheap, but turns out it was filmed in British Columbia in Canada. So I guess we're back to the earliest colonial myths of the black savage cannibal being enlightened, dispossessed or exterminated by the civilised white man. I would also appreciate an explanation of why the morally questionable Vikings, who think nothing of hacking off someone's head, are so gobsmacked when someone else chooses to eat that same body part.