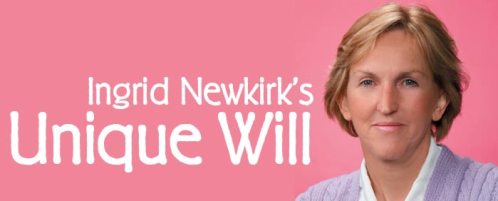 There seem to be less heroes lately. If you watch the news, the heroes – the paramedics, the nurses, the teachers, the activists – those who choose to do good things because it's the right thing to do – are usually unrecognised. The ones in the spotlight, the ones being treated as heroes, are the rich and famous, even the ones whose only claim to fame is being famous. The news cycle concentrates not on virtue but on suffering, and on vanity, fear, guilt and greed: the tools of the marketers.
I present for your consideration a hero of mine: Ingrid Newkirk, who founded People for the Ethical Treatment of Animals (PETA) almost forty years ago, and has steered it into becoming the largest and most active animal advocacy organisation in the world, with more than 6.5 million members and supporters.
The PETA mantra is:
Animals are not ours to eat, wear, experiment on, use for entertainment, or abuse in any other way.
How does this relate to a cannibal studies blog?
Well, Ingrid Newkirk has put a number of requests in her will, one of which is:
That the "meat" of my body, or a portion thereof, be used for a human barbecue, to remind the world that the meat of a corpse is all flesh, regardless of whether it comes from a human being or another animal
Ingrid tells the press: I want it fried up with onions, because people find it hard to resist the smell of frying onions. I can imagine them coming over and saying enthusiastically, "Oooh, what's that?' and then, "OMG, it's HER!"
All abuse starts at the point where the proposed victim is objectified, turned from a living, breathing subject into a thing, an other, an "animal", a piece of meat. To achieve this, we have all sorts of linguistic tricks which range from changing the names of victims (cows become "beef", pigs become "pork") to absurd suggestions that other animals are either mentally incapable or are automata that feel no pain. To make an animal brainless and painless, and therefore morally insignificant, is done through a nifty sleight of hand where non-humans are called "animals" and the Great Ape known as Homo sapiens somehow is not an considered an animal at all. An example: reports from medical researchers will usually distinguish "animal" trials from "human" trials.
Human cannibalism reminds us that we are animals, and that we are made of meat. It reminds us that, while we may be different to other animals (cognitively swifter than some, physically slower than others), we all suffer and die in the same ways. As Shakespeare said:
If you prick us, do we not bleed? If you tickle us, do we not laugh? If you poison us, do we not die?
One of the additional dangers of stripping moral worth from "animals" is that this can so easily be done to other humans who happen to be different colours, different genders, different faiths, different anything to us.
We need to be reminded that we are not demi-gods, that when we eat or wear or laugh at or test on "animals" we are causing massive suffering to beings not essentially different from ourselves. Even if no one eats from Ingrid's planned barbecue (which I hope will not be held for many decades to come) they will hear the message. And if this offer of a cannibal feast makes people question why they are willing to feast on other sentient beings, then one more hole will be made in the rotten edifice that holds up the death industries, the exploitative corporations whose existence future generations will rightly condemn.
The cannibal goes out and hunts, pursues and kills another man and proceeds to cook and eat him precisely as he would any other game. There is not a single argument nor a single fact that can be offered in favor of flesh eating that cannot be offered with equal strength, in favor of cannibalism.
Dr. Herbert Shelton, Superior Nutrition
If you like my blog, please feel free to recommend it (with discretion) to friends on social media. If you have any questions or comments, you can use the tag or email me on cannibalstudies@gmail.com.