The grand finale of Hannibal.
#savehannibals4
Finales have an obligation to tie up loose ends, answer questions, bury the bodies. It's the showdown, the shootout, the denouement. But they don't have to spell it all out too clearly, particularly for the more discerning audience who watch artistic masterpieces like Hannibal. Hannibal Lecter always leaves us thinking.
Yes, Dr Lecter, we will think about you. What you have to teach us about lots of things, not just about cuisine.
In the first episode of Season 1, the serial killer and cannibal Garrett Jacob Hobbs kills his wife and slits his daughter's throat because Hannibal has warned him that the FBI "knows" about him. Will shoots him several times, but as he dies, or even as he lies there dead, he smiles at Will at asks:
Each episode of this extraordinary show has had a theme that can be teased out – some more obvious than others. The theme of this one is multifaceted; it is about life, death, growth, conspiracy and betrayal. The plot is convoluted: the serial killer Francis Dolarhyde has faked his death but has revealed that he wants to meet, greet and eat Hannibal. Hannibal is locked up in The Baltimore Asylum for the Criminally Insane because of his own cannibalistic serial killing events. You will perhaps remember Hannibal gave himself up at the end of episode 7, so that Will would always know where he is. That, my friends, is love, Hannibal-style. But he is not enjoying the rigors of asylum living:
The FBI wants them both dead, and conspire to "fake" Hannibal`s escape to lure the Dragon.
Will doubts that he will survive this conspiracy and betrayal
Everyone else is terrified of Hannibal really escaping and coming for them. Hannibal`s former psychiatrist and, well, housemate, Bedelia, is convinced this is a terrible idea. She quotes Goethe's Faust, a work much loved by Hannibal as well:
Will has no sympathy. He knows Hannibal will also come for Bedelia if (when) he escapes, because she is on his menu.
Alana knows Hannibal is going to kill her, because he has promised to do so, and reaffirms that promise:
This slideshow requires JavaScript.
Will knows The Dragon will free Hannibal, and then try to kill him, change him, absorb him, as cannibals are so often accused of doing to their victims. We absorb the nutrition of our food, why should cannibals not absorb the strength, spirit and experiences of their victims? And Hannibal is willing to play along, as long as Will asks nicely:
The climax is at Hannibal`s house overlooking the "roiling Atlantic", where the Dragon takes on Hannibal and Will takes on the Dragon. Who has conspired with whom, and who is being betrayed?
Will replies:
"If you're partial to beef products, it is inconvenient to be compassionate towards a cow".
The battle is epic, brutal and bloody, and we expect no less. Will learns his lesson at last, that blood really does look black in the moonlight, as Hannibal told him in episode 9. That life and death are not opposite or even separate but part of the "becoming". That his extreme empathy and Hannibal's cruelty are one and the same.
That murder and mercy, as Thomas Harris told us at the end of Red Dragon, are just human constructions, and mean nothing to nature, "the Green Machine", which is indifferent to who lives and dies, and to conceptions of right and wrong. When we inevitably die, someone will eat us, and nature cares not a whit the species of the eater or eaten. Natural selection means that the Dragon, with the gun and the knife, will kill and absorb Hannibal. The Green Machine doesn't care. This is what Hobbs was trying to tell Will in the first episode, and what Hannibal has shown him, 38 episodes later.
But then, there's love and compassion, the emotion that makes a rat fight a snake to protect her young. Will and Hannibal – together at last, covered in blood, cut to ribbons, but feeling the love.
Is Hannibal dead?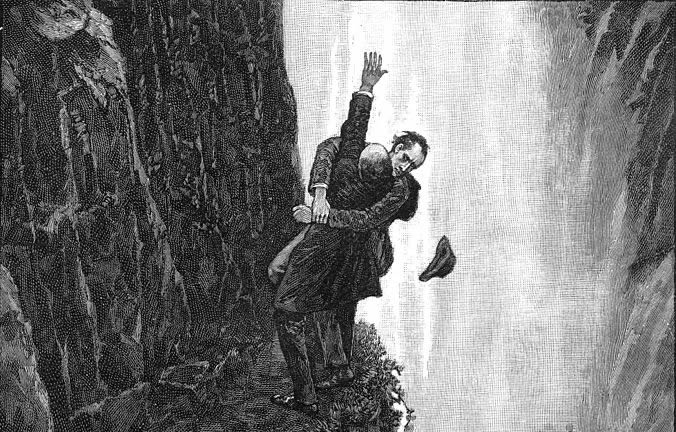 Remember how Sherlock Holmes and Moriarty fell to their deaths into the Reichenbach Falls in 1891, causing a massive public outcry among their avid fans, only to see Sherlock reappear in 1894, explaining that he had faked his death to fool his enemies? Well, Bryan Fuller has given us a pretty great clue, as in the final scene we see Bedelia sitting at a table with three settings, about to enjoy a sumptuously prepared meal, the centrepiece being her leg, roasted to perfection.
We hope, we conspire, we betray, we demand Season 4. Remember that this whole story, the three seasons, has been a prequel to the book and film that made Hannibal famous, The Silence of the Lambs. There is plenty of material in there with which to continue the story, or reimagine it as Fuller does so very well, perhaps, as he suggested, with "Margot Verger taking down the meat industry as a hot, powerful lesbian" and turning them over to PETA.
Hugh Dancy, when asked about another season, suggested it might take five years. Well guess what, Season 3 finished in 2015…
Next week I'll publish, for ease of reference, a complete listing of my Hannibal blogs.