2020 assailed us with fires, floods, famine and pestilence (both the pandemic and political varieties). The power of nature was demonstrated in several forms: in the massive power of storms, floods and fires, and the microscopically small virus that crippled the world economy and killed (probably well over) 1,700,000 people (so far). Our faith in being the masters of this planet and the manipulators of the natural world was finally shaken. We were toppled from our declared place at the top of the food chain by a miniscule virus that used our own cells as food to proliferate. We, like the animals we breed and kill by the billions, became fodder, not just to viruses, but occasionally to other humans. Some reported cases of alleged, proven or suspected cannibalism from 2020 are listed below. How many more are still unknown? Considering the hundreds of thousands of people who go missing each year, that is anyone's guess.
I am well aware that, as I write this, there are still a handful of days to go in the year, and there is a good chance 2020 may still have some more surprises for us. But anyway (as far as I know), this is the year 2020 in cannibal news.
Note: 2020 saw reports about the guy who allegedly hung his Grindr date upside down, cut off his testicles and ate them, but he is not counted here as he did it last Christmas eve, which technically was still 2019.
2020: INDIA
A blind couple in Uttar Pradesh's Kanpur district allegedly had a seven-year-old girl killed so they could eat her organs, as they believed that this would result in them having a child. Police said that a seven-year-old girl had gone missing on the night of Diwali on Saturday. Her blood-stained body was recovered from a field near the village on Sunday. "Several organs of the body were missing….her stomach had been ripped open" and the girl was also raped before being brutally murdered.
2020: GERMANY
On 8 November a hiker came upon the skeletal remains of a human leg in a field on the northern outskirts of Berlin. Investigators discovered bite marks on the bones, though they said it was still unclear if they were human or from another animal. A 41-year-old man was arrested at his home close to the site where the victim's bones were found, on suspicion of murder with sexual motives. "The suspect had an interest in cannibalism," Berlin prosecutors' office spokesman Martin Steltner said. "He searched online for the topic." Well really, who hasn't?
Because the alleged killer and victim met on an on-line dating site, reports of the arrest have evoked parallels to the infamous case of the "Rotenburg cannibal". In 2006, a German court convicted Armin Meiwes of murder and disturbing the peace for killing a man he had met online and eating him. Meiwes is serving a life sentence.
2020: RUSSIA
66-year-old Viktor Zakharov was arrested on suspicion of three murders after a severed penis was found in his garden in the Siberian village of Severnoye. Skeletal remains of two other men were subsequently found under his floorboards. Authorities are investigating whether the scrap metal collector ate the men. He is now also being investigated concerning the disappearance of 14-year-old Alexey Bakun in 2012.
2020: UKRAINE
A 41-year-old Ukrainian admitted that he killed his girlfriend, then fried and ate her legs after the two had a drinking session at home on April 13. He hid the rest of her body in the reeds of a nearby river, where it was found the next day by a father taking his two children for a stroll. Officers ambushed Oleksandr in his home and found him frying flesh from his girlfriend's leg before eating it. Local reports said the police felt sick after witnessing the horrific scene. According to Ukrainian media, Oleksandr cooked his girlfriend's legs and ate them after he reportedly 'got hungry'.
Also in Ukraine, Maxim and Yaroslav Kostyukov, 42 and 21, were convicted of killing Yevgeny 'Zhenya' Petrov, 45. The three had been drinking together when a row developed over the conflict between Kiev's army and pro-Moscow rebels in the eastern part of the country. A court heard how the son had held Petrov from behind while the father stabbed him twice in the chest. Yaroslav Kostyukov then beheaded the victim and cut flesh from the corpse as well as his heart, kidneys, liver and other internal organs. He confessed to cooking the meat which was served when the father and son hosted a homeless man called Yura. Prosecutor Oksana Karnaukh said: "There is no such crime as cannibalism listed in the Criminal Code of Ukraine." The pair were, however, charged with murder and aggravating circumstances committed by a group of persons, and illegal possession of arms. And, presumably, legs.
2020: USA
In Oklahoma, a hospital admitted a severely bleeding 28-year-old patient, who told the staff that two men had surgically removed his testicles as he lay on a wooden table in their remote cabin in the woods. One of the men said he was a "cannibal" who kept body parts in a refrigerator. The unnamed "patient" met the "surgeon", Bob Lee Allen, on a website advertising castrations. Allen said that he had 15 years' experience doing similar surgeries and would remove the man's testicles free of charge. Why so generous? After the two-hour procedure, Allen "laughed and said that he was a cannibal," the victim told investigators, adding he had a freezer full of body parts.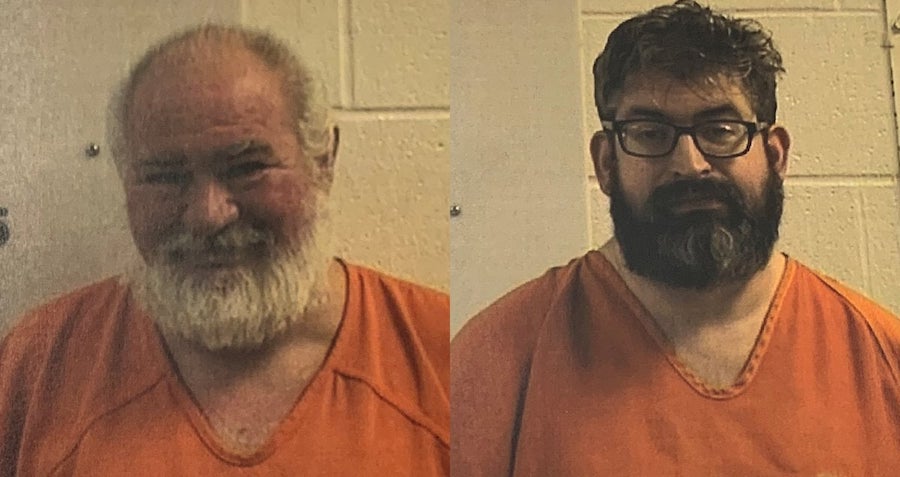 In Brooklyn NY on April 15, Khaled Ahmad ran up to some cops from the 68th Precinct who were on meal break in a bagel shop about 4:30 a.m., and told them he had killed his 57-year-old father. The victim had been gutted and "the victim's innards were removed but not found, leading some investigators to believe Ahmad may have eaten them". Ahmad "had a history of mental illness" while the unfortunate father was a retired grocer, who had just sold his store in Rockaway Beach, Queens. Ahmad had created a GoFundMe page in September 2019 that asked the public to help fund his return to the Palestinian territories, but at the time of the murder, he and his 57-year-old father, Imad Ahmad, were sheltered at home in Dyker Heights, Brooklyn to avoid getting the coronavirus. One high ranking cop said, "it's the worst crime scene I've ever seen."
On the other side of the country, police were called to a home in Richmond, California, where they found Dwayne Wallick, a "suspected" cannibal, "digging into his grandmother's dead body and trying to eat her remains". The murder involved both a knife and an ice pick. "Police believe unspecified drugs may have played a role in the crime". No shit, Sherlock. A Richmond Police spokesman said the crime scene was among the most gruesome he's seen in his career.
Here's the thing – would you pick any of these guys as cannibals? They don't have a single eye in the middle of their forehead like the cyclops or dog-faces like the cyanocephali. They don't have bones through their noses like the mythical cannibals of the colonial stories. In fact, since Jack the Ripper, or perhaps Sweeney Todd, cannibals have looked "normal" – indistinguishable from anyone else. Cannibalism has come home, and the cannibal could be living next door. Or even closer.
2020 CANNIBAL MOVIES
Pretty amazing that anyone managed to produce anything in 2020 with all the lockdowns and social distancing, yet below we have a bunch of cannibal movie releases. Several others were put on the backburner and will hopefully appear in 2021 when things get back to abnormal.
Gretel & Hansel (Oz Perkins) – a reboot of the Grimm Brothers tale.
Human Hibachi (Mario Cerrito III) – Indie cannibalism, banned by Amazon.
The Last Thanksgiving (Erick Lorinc) – cannibal pilgrims attack a restaurant that stays open for Thanksgiving.
Cannibal Comedian (Sean Haitz) – you know how comedians like to say "I killed out there"?
Spell (Mark Tonderai) – Hoodoo cannibal rituals.
The Dinner Party (Miles Doleac) – an invitation from the cultural elites – they'd like to have you for dinner.
Butchers (Adrian Langley) – stranded in the backwoods, attacked by cannibals, did anyone mention chainsaws?
Cadaver (Jarand Herdal) – post-apocalyptic family are invited to a show, where they can join the cast, or the menu.
If you're staying home in 2021, why not browse through my blog, which reviews films and TV shows that feature cannibalism. There is a complete listing of Hannibal Lecter films and TV episodes, and heaps more as well.