What a year it was – if a virus wasn't invading your body, your neighbour might well be.
Thank you!
Cannibals and rumours of cannibals in 2021
I decided to postpone this blog post until January 2022 because, at the end of 2021, new cannibalism cases were still being reported. In the previous year's summary, I had missed THE GRANNY RIPPER, because she died of COVID on December 29 2020 while awaiting trial. So we're sneaking her in to the section at the end – cannibals sentenced in 2021, although her judge and executioner was a tiny virus.
There were so many cannibal stories in 2021 that I am listing them alphabetically by country. I should point out for my American readers that the good ol' USA won gold in the number and strangeness of cannibal acts last year, with Russia, Mexico and Nigeria tied for silver.
Australia
A Tasmanian man pleaded guilty to assault and attempted abduction of a five-year-old girl, telling the court that he just wanted a cuddle (albeit from a screaming child, whom he had just attempted to strangle) and later telling prison officers that he had wanted to eat her, and that he had been wanting to eat people since he was a child.
Bolivia
A woman chowed down on a burger in Santa Cruz de la Sierra only to find that she was chewing on a severed and decomposing human finger. The unfortunate incident (you'd have to call her an innocent cannibal) was the source of some semi-amusing puns from the world's press, plus a hilarious unintentional pun from the burger company who told her "the issue is out of our hands".
France
A man in Tarascon, a town between Avignon and Arles, was shot by police after the decapitated and partly consumed corpse of young boy was found in his apartment.
Ghana
Richard Appiah of Abesim near Sunyani in the Bono Region, allegedly lured three boys to his house, killed them and kept their mutilated bodies in his fridge. He is said to have cooked for them, before cooking them.
Indonesia
A family in Gowa allegedly gouged out their six-year-old daughter's eye as part of a black magic cannibal ritual that was supposed to bring them wealth, before her mother ate her eyelid. Police also arrested a shaman, who allegedly convinced the family to sacrifice children.
Malawi
Patrick Gome from Ntcheu was allegedly found biting a nine-month old baby on her cheek and thigh. A police spokesperson said Gome acted "like a wild animal".
Mexico
David Sanabria and his young daughter, trying to cross Mexico from Honduras in the hope of entering the United States, was kidnapped by a Mexican cartel and held for ransom. Those refugees who did not pay, he later told Noticias Telemundo Investiga, were murdered and cooked and the surviving migrants were made to eat the meat.
Andres Filomeno Mendoza Celis, 72, was arrested in Calle Margaritas, in the municipality of Atizapan de Zaragoza. Detectives arrived at Mendoza's home to interview him about the suspicious disappearance of a woman, Reyna González, a mother of two, only to find her mutilated remains on a table. Mendoza reportedly admitted to slaughtering and eating parts of around thirty women over the last twenty years.
Nigeria
The cannibal of Ebonyi was the name given to a commercial driver in Abakaliki, the Ebonyi State capital, who reportedly bit off and swallowed the finger of a member of the taskforce raised by the state's Ministry of Capital City Development to enforce compliance with urban planning regulations.
A video has surfaced online purporting to show the Eastern Security Network (ESN), the security wing of the Indigenous People of Biafra (IPOB), celebrating the abduction, beheading and cannibalisation of two police officers. The Director of State Security said "We saw human flesh being roasted, it was an eye-sore." An IPOB spokesperson, Emma Powerful, denied claims that their members eat human flesh and engage in barbaric acts, saying that the claim by the DSS was meant to demonise IPOB and ESN operatives and tag them as criminals.
Russia
Vladimir Yadne killed three people in Siberia and ate their flesh, washed down with vodka.
On the other side of Russia, Yegor Komarov was seen running from his car, which he had crashed into a road safety barrier. The problem was not the accident, but the headless body which fell from the car boot. Komarov admitted to being a cannibal and stated that he 'likes killing people'. He confessed to stabbing and killing another man in a park in St Petersburg last year for the sole purpose of tasting human flesh, and said he had sliced off the tongue and fried it in butter.
South Africa
A community leader told the Financial Times newspaper that rioting and looting have caused food shortages which have led people to consider cannibalism.
Spain
National Police officers in Sevilla were deployed on Saturday, September 18, to deal with what they have described as one of the most bizarre incidents in the history of the force, a case involving African witchcraft and cannibalism. Allegedly, a fight had broken out between two women after one threw a bottle of water containing salt at the other, and accused her of witchcraft. Believing that her roommate was possessed, she struck her on the head with a stone, and then bit off and ate two of the woman's fingers. After this, the aggressor, in an attempt to rid the other woman of the supposed demon, inserted the stone into her anus in an attempt to extract her guts.
USA
The biggest cannibalism story in the USA in 2021 was about a man who almost certainly has not eaten anyone. He did, however, boast about it in text messages to some very pissed off girlfriends, who reported it widely. Yep, the actor (maybe former actor) Armie Hammer. Arguably now more famous for his cannibalism posts than for his movies.
On February 9 2021, Chickasha (Oklahoma) police responded to a 911 call. They found Leon Pye dead and his four-year-old granddaughter Kaeos critically injured. She died in the back of the ambulance. Delsie Pye, Leon's wife, was alive, but had knife wounds to both eyes. Lawrence Anderson confessed to the Oklahoma State Bureau of Investigation that before slaughtering his family, he had broken into the home of a neighbour and butchered the woman who lived there, cut out her heart, and cooked it with potatoes to feed to his family, to release the demons. Apparently unsuccessfully.
Landon Copeland, an Army veteran from Utah who had been accused of assaulting police during the Capitol insurrection, was refused bail after he threatened to "eat the flesh" of a probation officer. He is said to have shouted "I will eat your flesh for nutrients. I don't think you don't know what I am!"
James Phelps, 58, and Timothy Norton, 56, were arrested and charged with kidnapping a young woman named Cassidy Rainwater in September. The County Sheriff said that Rainwater was disembowelled and dismembered after she was strangled. Some of her remains were found in a freezer. Conspiracies are floating around that both Norton and Phelps were involved in cannibalistic activities.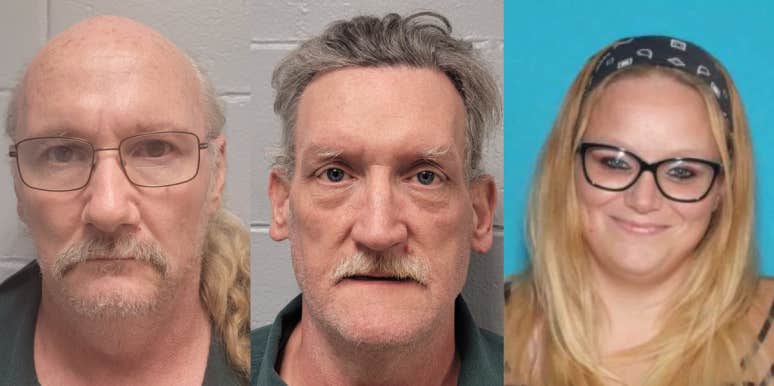 Just squeaking into 2021 before the ball falls in Times Square, Idaho man James David Russell, 39, of Oldtown in Bonner County had cannibalism charges added to his accusations of first-degree murder. Police found pieces of the neighbour, some of which appeared to have been cooked in a microwave oven. According to the supplemental probable cause affidavit, Russell believed that he could "heal himself by cutting off portions of flesh" in order to "cure his brain."
Sentenced
Some cannibals sit in jail for a while before they are finally sentenced. Here are a few who ate people in earlier years, but were sentenced in 2021.
2022
Well, I hope you can see why I nominated 2021 as THE YEAR OF THE CANNIBAL. But what does 2022 have in store for us? Well, if you follow the prophecies of Nostradamus, which a surprising number of people do, 2022 offers, yep, even more cannibalism, this time because of inflation and the price of food.
"So high the price of wheat
that man is stirred
his fellow man to eat in his despair."
Looking further ahead, a professor of astrobiology at Edinburgh University has warned that humans who attempt to colonise other worlds such as Jupiter's moon Callisto and Saturn's moon Titan could well find themselves running out of food and resorting to cannibalism. It happens – think of the "Starving Time" in the Virginia colony of Jamestown in 1609-10, or Sir John Franklin's 1845 exploration of the Arctic that resulted in the crew cannibalising each other.
"As I stand before you, I've never had the urge to eat anyone, and it will never happen. So, what people are saying about the vaccine making people want to eat others… of being part of 5G technology, or linked to the work of the devil, is all nothing but a myth. It is not true."
Hope you enjoyed your New Year festivities! Next year you might need a barbeque. Please keep reading and liking, and commenting! If you need some light reading, here's my complete listing of Hannibal films and episodes.